Today is Tuesday, November 30, 2021. Your local time is 09:29pm.


HistoryKill 2022 Free Trial / HK2022 UPDATE
According to CNN and PC WORLD, HistoryKill is a "Top Internet Privacy Tool!"
Internet Explorer Directions: After you see a window similar to: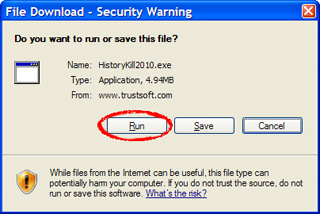 Click "Run" or "Open" to download and Install HistoryKill.


Click Here if your Download doesn't Start Automatically


***IMPORTANT*** Windows 10 Installation Directions:



STEP 1) Click "More Info" link on left side of the blue box.





STEP 2) Click the "Run Anyway" button to Install HistoryKill.




data rendered in 0.0095539093 seconds for 18.212.120.195 on Tuesday, November 30, 2021 at 09:29pm